Meet The Doctor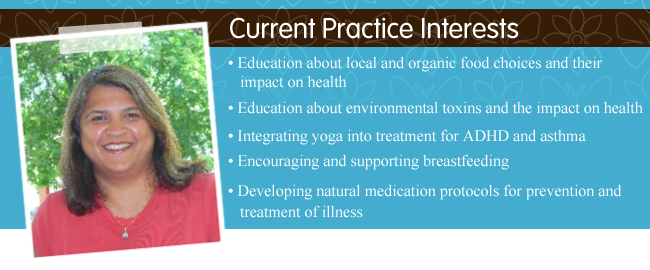 Dr. Sant attended medical school at The Ohio State University. She completed her residency at Nationwide Children's Hospital. Prior to starting WholeKids Pediatrics, Dr. Sant was in a private practice for 10 years with a large pediatric group.

Dr. Sant is a primary care pediatrician who has sought out additional training in pediatric integrative medicine. Her interest in establishing an integrative practice was spurred by her concern about the increased use and side effects of many medications as well as her deepening respect for the body's natural healing capabilities. Dr. Sant has received training in the use of botanical and nutritional supplements. Based on each patient's needs, Dr. Sant will utilize conventional medicines, natural medicines or both.
Continuing medical education in complementary therapies has allowed Dr. Sant to broaden her treatment options for both preventative and illness care. In 2008, Dr. Sant finished her yoga teacher training and infant massage training. Currently, Dr. Sant is finishing her prenatal yoga certification. She hopes to continue to incorporate yoga into her medical practice.
Dr. Sant lives in Grandview with her family and sweet pets, Chelsea and Isobel. She is learning to transition to being a parent of college age daughters. Dr. Sant is a Columbus native and is a huge fan of Buckeye football and weirdly, Arkansas Razorback football too! Dr. Sant loves to travel and her bucket list includes a safari in Africa and a trip to New Zealand. In addition, she loves reading, especially about food, eating great food and yoga (although she is not as flexible as she used to be).