WholeKids Plus

WholeKids Plus is an annual wellness program fee that expands and allows the continuation of currently offered services that are not reimbursed by traditional insurances such as:
A holistic, integrative approach to medical care for optimal health
Breastfeeding support to get babies off to a great start in life
Nutritional counseling at every stage of development and guidance on nutritional supplements.
Evidence based guidance on herbal, homeopathic and other natural remedies.
Receive advice from our nurses via the telephone or patient portal.
Direct access to providers after hours as opposed to an answering service along with same day urgent ill visits.
Electronic access to your child's chart with secure message capability from the convenience of your home or smartphone.
No charge for school/camp/insurance forms and letters.
Discounts on WholeKids educational offerings including yoga classes.
Note: It is the expectation that all patients will participate in our wellness plan to take advantage of the services offered at WholeKids Pediatrics.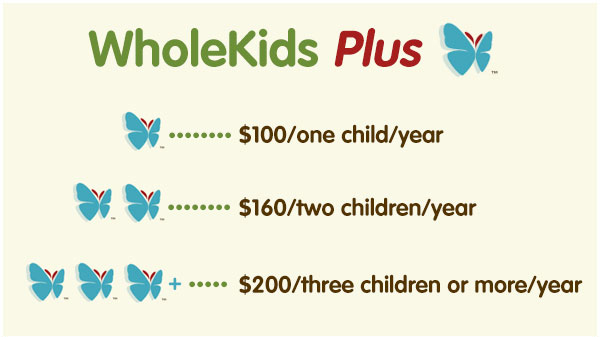 ---
FAQ:
Why did WholeKids start charging a fee?
Insurance reimbursement has not kept pace with the increasing cost of providing medical care. In order to continue to provide the integrative model of care and spend the time necessary with patients, the decision was made to institute a nominal yearly fee.
We chose to institute this fee to avoid having to stop accepting some or all health insurance plans, raise our cash fees, and/or increase the number of patients we see. Increasing the number of patients that we see decreases our time with patients and reduces the opportunity to provide an integrative care experience.

What is the cost of the plan?
$100/one child/year
$160/two children/year
$200/three children or more/year
If the wellness fee is paid by January 31st of every calendar year a 10% discount will apply.

How is the fee collected?
Currently established patients pay by the end of January of any given year. All new patients are expected to pay the appropriate prorated yearly fee at the time of their first appointment and then yearly.

What if I join the practice in the middle of the year? Do I owe the whole year's fee?
The annual fee will be prorated when joining the practice. Note that this pro-rated fee schedule is only applicable for NEW patients.

Does the fee apply to self-pay patients?
Yes. The fee applies to all patients. This fee is not covered by basic patient care charges.